Balderich von Adler
General[2] Balderich von Adler was the leader of the Crusaders.
Balderich was born in the German town of Eichenwalde.[3]
Balderich was the member of the Crusaders originally chosen to join what would become Overwatch during the Omnic Crisis.[4] Alongside the Mountain Infantry Battalion, he and the Crusaders fought against the omnics outside Eichenwalde.[5] The Crusader/German forces were apparently forced to retreat to Eichenwalde itself.
The day before his departure to join Overwatch, Eichenwalde itself came under attack by Omnic forces. Balderich took a handful of Crusaders, including his pupil Lieutenant Reinhardt Wilhelm,[4] and a force of the Mountain Infantry Battalion into the village in an effort to outflank the omnic army.[6] During the battle the recklessness of the young Reinhardt caused him to separate from his squad and over-eagerly attack an OR14 unit, losing his eye in the process. After ordering his forces to fall back, Balderich was forced to intervene to save Reinhardt but his shield emitter was destroyed, and he was mortally wounded while doing so. With the Crusaders and infantry already retreating, Balderich and Reinhardt fell back to the great hall of Eichenwalde Castle.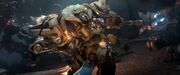 Once inside Balderich ordered Reinhardt to rejoin his unit while he stayed behind and held the line. Finally realizing the gravity of his master's wound Reinhardt refused to leave his side. It wasn't until Balderich told him that his team needed him to be their shield that Reinhardt relented. Shaking hands with Reinhardt one final time Balderich gave his student the acceptance medal showing his initiation into Overwatch. Reinhardt left his rocket hammer with him and retreated. Dying, Balderich took up both his own hammer in his right hand and Reinhardt's in the left, and confronted the omnic forces alone when they breached the front doors.[4]
Balderich's soldiers were able to break down the enemy forces, giving the German military an opportunity to push back, but other than the known exception of Reinhardt,[4] the Crusaders didn't make it out of the battle.[6] It wasn't until the last omnic was destroyed that Balderich staggered back, finally collapsed onto the throne in the great hall, succumbing to his wounds.[6][7][4] His remains were left sitting where he fell.[8]
Decades later, following Winston's recall of all former Overwatch agents, Reinhardt visited the body of his fallen friend alongside Brigitte, placing the now worn medal on the throne's armrest and affirming that he was always bound to answer the call.[4]
At some point afterwards, effort was made to recover Balderich's remains, as one force sought to breach the castle, while another defended the fallen general.[9]
Balderich bears resemblance to Kanai from Blizzard's Diablo universe. Both are war leaders who perish in a battle against overwhelming odds, who are found slumped on a throne, dead, in their respective games by the player characters.
Reinhardt has two Legendary skins based on Balderich.
Adlersbrunn might be named after him.