Overwatch 2
Overwatch 2



Developer

Blizzard Entertainment

Publisher

Blizzard Entertainment

Release date

TBA[1]

Platforms

PC, PlayStation 4, Xbox One, Nintendo Switch[1]
Overwatch 2 is the next iteration of Overwatch.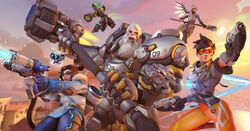 Overwatch 2 will feature both new PvE and PvP modes. An example of the former is Story Experience.[1] An example of the latter is Push. The modes will launch along with multiple new maps and heroes, new HUD, and a major engine upgrade for both Overwatch and Overwatch 2. Overwatch 2 will share the exact same hero and map pool as the original Overwatch—any new heroes or maps added to Overwatch 2 will also be added to Overwatch—and there will be cross-play between the two for PvP. They will also share the same client. If an account with Overwatch buys Overwatch 2, any cosmetics and achievements from the original will be carried over to Overwatch 2.[2] Updated appearances of all the current heroes will be exclusive to Overwatch 2.
Overwatch 2 will feature PvE story missions that are set after Overwatch was recalled by Winston. In these PvE missions, players can upgrade and customize abilities. Furthermore, PvE missions will also include items of various rarities that players can pick up and use to perform different effects (e.g. heal, damage, create a barrier, etc.).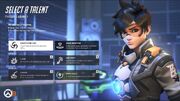 As said by Jeff Kaplan during BlizzCon 2019, in the game's PvE mode will have hero talents that increase the abilities of Heroes through an XP and level up system.
A list of all known Talents can be found on the Talents page.
Work on Overwatch 2 (in some form) began as soon as the original game shipped. The developers are considering cross-play between the PC and console versions.[3]
The existence of a second Overwatch game was hinted at by J. Allen Brack in May 2019.[4]
In a June 2019 Kotaku article, it was confirmed that Blizzard staff were being transferred from Ares to work on other projects. Among the rumoured projects they were sent to was a PvE focused Overwatch game that has been likened to Left 4 Dead.[5] While the game was expected to be revealed at BlizzCon 2019, a French employee had reported that they felt the game would not be released before 2020.[6]
In October 2019, ESPN had received information and a package regarding the information that was to be revealed at BlizzCon 2019. Among the package was information about Overwatch 2 being revealed, alongside a new gamemode Push and a new map Toronto. Hero talents and in-game items are also expected to be included in the game, but it is unknown whether they will be for the proposed PvE modes exclusively.[7] Their report was later updated, stating that it was likely the game would be called "Overwatch: Chapter 2," as opposed to "Overwatch 2."[8] A few days later, artwork of the game was leaked, showing heroes of the original game featuring redesigns.[9]
The game was revealed on 1 November at BlizzCon 2019.
The game's heroes have undergone an artistic redesign. The redesign varies from hero to hero, but each seeks to be true to the hero's core story, and to imply where the heroes have travelled, or who they've spent time with between games. Evolutions to the game's technology, like new shaders and lighting, have allowed greater detail in character rendition, which translates to more emotion via facial features and body language. To further improve the feel of the world, the art team explored ways to push the technology and bring environments to life using weather systems, fog changes, improved cloth, more particles, and sequenced events. Dynamic weather effects, first introduced in Storm Rising, has been improved.[10]
↑ 1.0 1.1 1.2 2019-11-04, New Gameplay Today – Overwatch 2's Story Experience. Game Informer, accessed on 2020-03-12
↑ 2019-11-02, STORY MISSIONS, HERO MISSIONS, PUSH MAPS, AND MORE–OVERWATCH 2 "WHAT'S NEXT" PANEL RECAP. Blizzard Entertainment, accessed on 2020-05-16
↑ 2019-11-02, The Overwatch 2 team "absolutely has plans" to do something like break Reinhardt's hammer in half — but it won't affect PVP. Blizzard Watch, accessed on 2020-07-19
↑ 2019-05-04, Blizzard Has Big Plans For The Overwatch Universe. Comicbook.com, accessed on 2019-06-09
↑ 2019-06-07, Sources: Blizzard Cancels StarCraft First-Person Shooter To Focus On Diablo 4 And Overwatch 2. Kotaku, accessed on 2019-06-09
↑ 2019-06-26, Diablo 4 Apparently Shown to French Employees. Diablo.net, accessed on 2019-06-26
↑ 2019-10-27, Sources: Overwatch 2 to feature PvE, new map, at least one new hero. ESPN, accessed on 2019-10-28
↑ 2019-10-29, Overwatch 2 to Feature New PvE Missions, New Game Mode, and Hero 32. IGN, accessed on 2019-10-31
↑ 2019-10-31, Overwatch 2 Rumours Pick Up Steam With New Leaked Image Of Omnic Hero Echo. Geek Culture, accessed on 2019-10-31
↑ 2019-11-05, REVVING UP THE ENGINE—OVERWATCH 2 "EVOLVING THE ART" PANEL RECAP. Blizzard Entertainment, accessed on 2020-05-16