Talents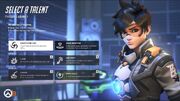 To be introduced in Overwatch 2, Talents are special augmentations on the abilities of heroes to be used in the Hero Missions and Story Experience modes of the game.[1] This feature was announced during Blizzcon 2019.
By defeating enemies and completing missions, a player gains experience for the hero they play. After gaining enough experience, the hero will level up. Each hero's level is tied to the player profile, and the hero in question. As a result, experience is gained and saved over multiple missions, including repeated missions.
A hero's level determines which Talents they can potentially take. Each hero appears to have 6 Talents, split amongst 3 tiers. The player begins with the first tier unlocked at Level 1, and unlocks the other two tiers at Level 10 and 20, respectively. Each tier contains 2 Talents, and a player can only select 1 Talent from each tier.
At the beginning of a mission, after choosing their hero, a player gets to choose 1 Talent from each tier they have unlocked with that hero's level.
Below is a list of all known talents. Talents of unknown level have only been seen in promotional material, and have no indication of their level.